This is a drawing of a gorgeous grey cat called Clementine or 'Tiny' for short. The portrait is 20 x 30 cm in size and I used graphite pencils and coloured pencils to create a tint in her eyes. Tiny sadly passed away last year and the client commissioned her portrait for her husband. Tiny is of course terribly missed by her family and the client wanted a vivid memory of her in their home.
See what the client's husband had to say in his comment on my instagram page: https://www.instagram.com/true.image.portraits/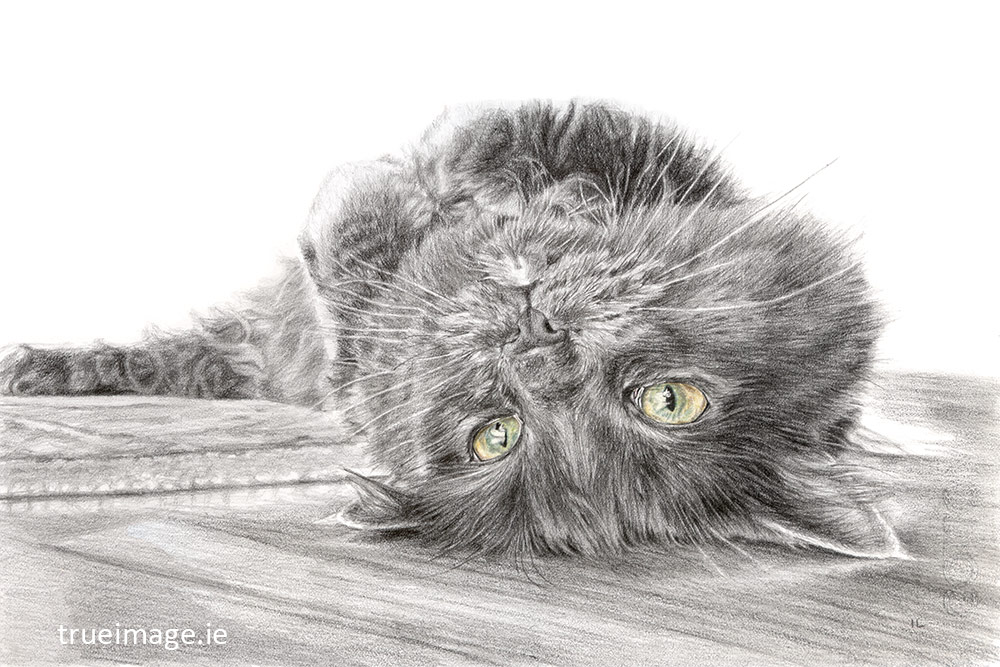 The client wanted to capture her playful personality. She loved lying upside down. The client was also keen to capture her colours well. She was a very dark grey with bright eyes. We decided to use graphite pencils which would capture her fur colour really well and a bright highlight for her eyes in coloured pencil.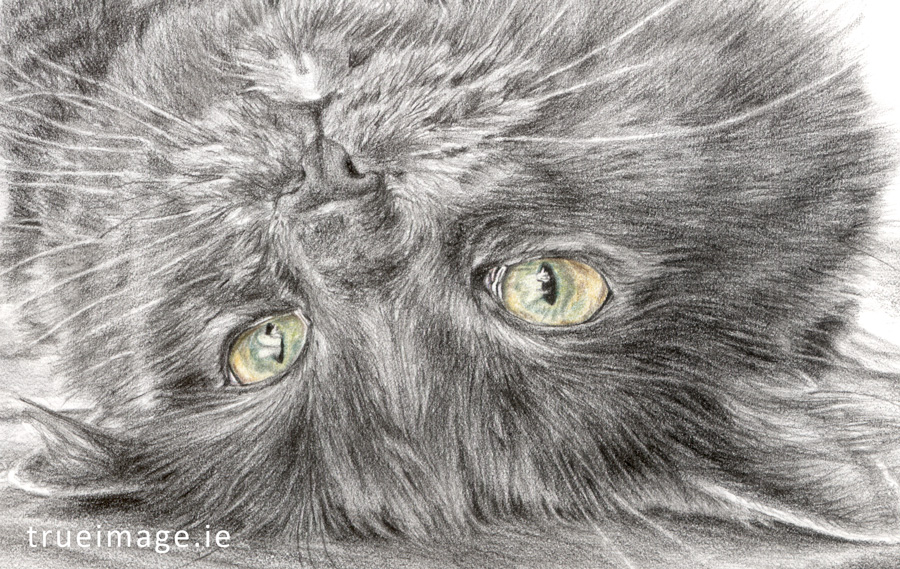 The client was very happy with the finished portrait and wrote me a lovely email:
Oh my god it's so beautiful!!!  Thank you so much – you captured her perfectly, and my husband is going to love it.  *I* love it!  You captured the velveteen paws, and the tinge of green/yellow in her eyes is just amazing.  I can't stop smiling :).

Tara, Westport, county Mayo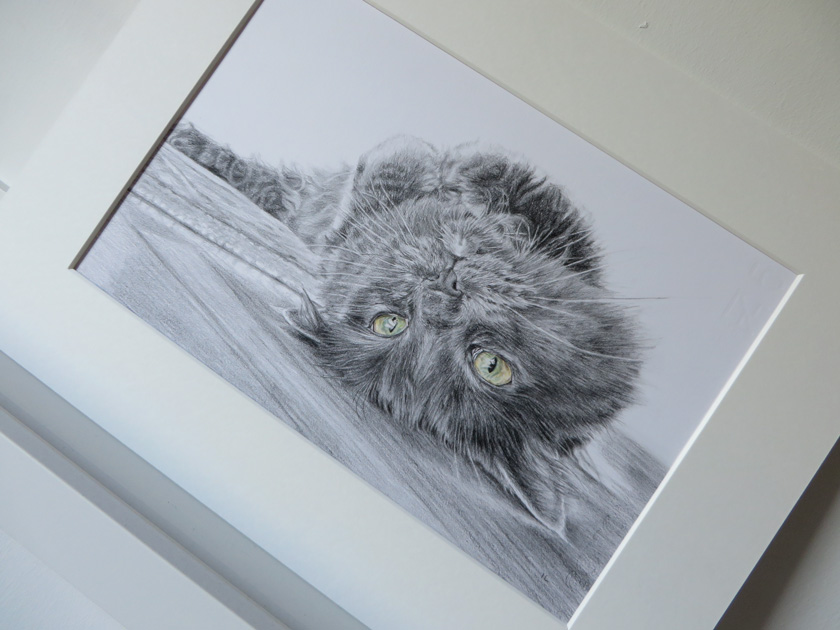 The portrait was posted in a neutral coloured mount as you see above. I use an off-white coloured mount and drawings can be inserted straight into a frame. Standard sizes fit into a shop bought frame too.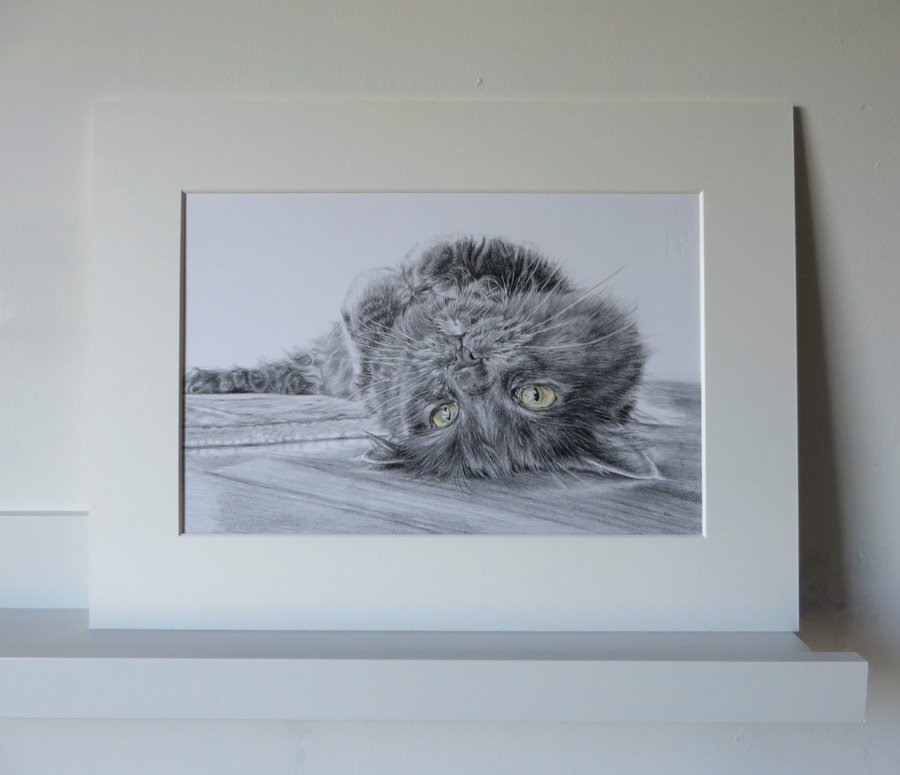 Here is the finished drawing in the mount on the shelf in my studio. When the client received the drawing and gave it to her husband, she wrote me another email:
Hello again – I think you saw Dave's comment on Instagram – the portrait is just amazing in person… Dave opened it and said, "Oh my god, that's HER" – and I think the picture we picked was perfect because it showed her velvet paws, ruffly arms, balding (!) chin, and her messy underside.  Thank you so much for doing this!  I will definitely need to get a portrait of our other cat, Henry B. someday soon.  

Tara, Westport, county Mayo
It is great to hear how my clients receive their portraits 🙂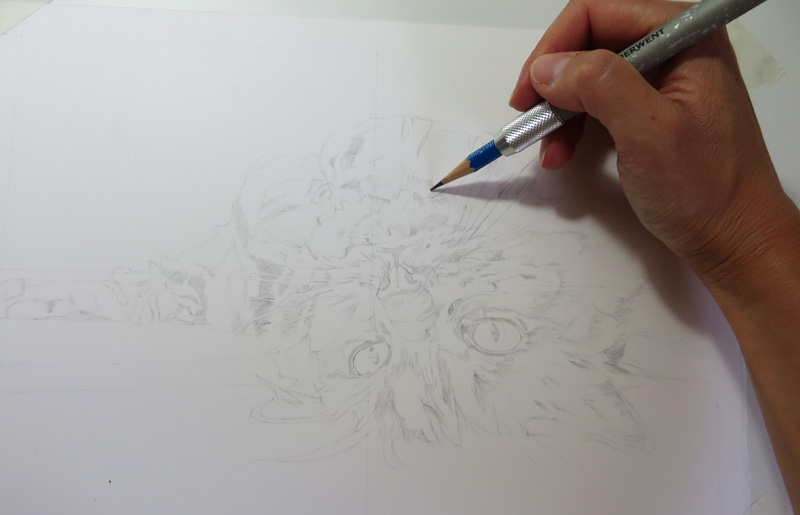 The first step in the drawing process was to create a good likeness in a sketch form with a HB pencil. Once I was happy I captured Tiny's features correctly, I started shading her portrait. I like to work on the entire drawing at the same time to achieve the correct tonal values.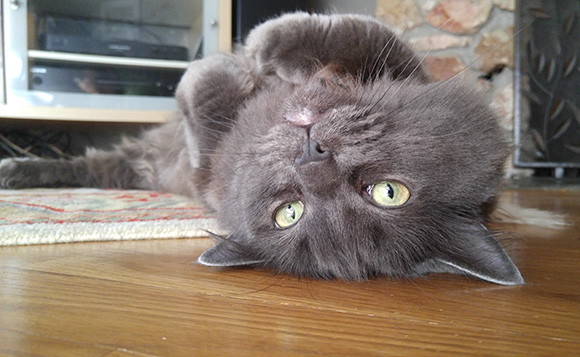 The photo was so interesting, I just loved the unusual position. Tiny used to lie on her back a lot and the client wanted to capture this in the portrait.